I took L-Bizzle out for our usual jaunt outside today. We always walk around the common, but the weather was mighty fine, so I decided we should walk around the cemetery. There was tons of freshly buried bodies. More so than I've ever seen at one time. L-Bizzle was very interested in them. I had to pull her away with ferocity.
As we we strolling around the perimiter, I noticed a path into the woods. L and I hopped over the stone wall and followed the beaten path. Off the path sat a few busted ass shacks and crypt-type structures. They were covered in signs that exclaimed "keep out" and what not.
The ground was disgusting and soggy from melting snow. I had to keep my eyes on the ground to make sure I didn't sink in the mud or trip over rocks and branches. Then, I found this strange footprint. I examined it closely. Scanning through my vast knowledge of the paranormal, I quickly identified it as a Chupacabra print.
We kept trucking along the path for about an hour. About 20 yards aside from us, I saw an orange sign in what looked like an empty pond. The sign said "biohazard waste. Keep out". I thought to myself "what the crap?!"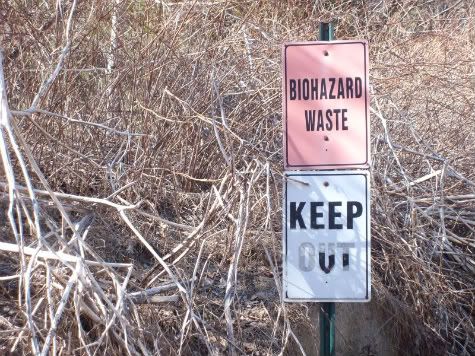 On the opposite side of the toxic waste ditch was this lovely little brook.
I had to cut the rest of the hike short because I drank a 24 ounce monster before we left. I had to pee. I got to thinking on the way back.
Why were there so many fresh graves ?
Why is there toxic waste dumps in the wilderness.
Was that a Chupacabra print ?
The fresh graves must be because the dead are rising because of the toxic waste dump. The river is carrying the waste into the cemetery. Or, The waste is being carried into the cemetery and creating super human mutations. They're probably not flesh eating zombies because they would have been here to eat our brains by now. SOMEONE must know about this because these corpses are being reburied.....